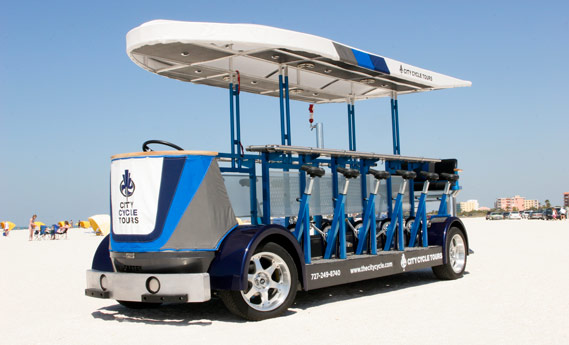 What happens when you ask a rocket scientist to build a bicycle? Well…apparently, you get the City Cycle, which at first glance looks like a cross between the Hopsworksfiets beer bike and a city bus. Casimir Sienkiewicz and his team at Caztek Engineering usually work on projects for the aerospace or medical industries, but they jumped at the chance to design and build a 14 passenger "pedal-powered pub" which will be used by City Cycle Tours of St. Petersburg Florida for tours of the city's historic waterfront.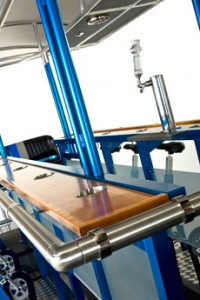 Like Eric Staller's Conference bike, the City Cycle relies on its passengers (10 out of the 14 in this case) to propel the vehicle. This is more than just a CoBi with a keg in the center though. The City Cycle was built using techniques similar to custom automotive construction, and Casimir points out that it is "tricked out with a keg, tap, in-floor coolers, beefy stereo system and dramatic LED lighting to provide a totally new lounge experience." The designers incorporated "a low running-board-style deck as well as adjustable seat posts to accommodate a variety of heights and abilities. Also included are a grab-rail for the pedalers and a driver-forward design that creates an open deck for socializing." OK, I am sold. I would love to take a ride on this thing (as long as I am not the designated driver).
The design page on the City Cycles website features concept sketches and 3d models of the vehicle, which was prototyped digitally (in SolidWorks) prior to any metal being cut. Casimir explains that, "Many of the design elements were fabricated per our CAD design and bolted in place without changes, one of the advantages of digital prototyping."
You can see videos of the City Cycle in action on Caztek Engineering's Youtube channel and check out the City Cycle page on Facebook for more pictures. It really does look like fun…"the ultimate party on wheels" to quote the team at Caztek.