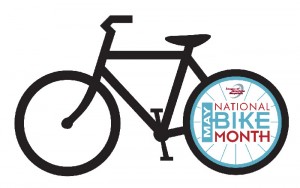 It's National Bike to Work Day here in the US. For the hardcore bike commuters who might be reading this, today is like any other day (except for the free food and schwag). A couple weeks ago, I heard one of those everyday, rain or shine commuters dismiss the idea of Bike to Work Day, saying that riding to work one day a year shouldn't really be celebrated.  I guess that is one way to look at it, but I prefer to think of BTWD, and Bike Month in general, as an opportunity for those of us who already love cycling to get out in the community and talk to people who are just starting to think about giving it a try. With gas prices around $4 per gallon, there are more and more of those people out there, so I hope you are all getting a chance to help spread the word today, and throughout the month of May.
For anyone just starting out with bike commuting, the Bike to Work Book, by Carlton Reid, is a great resource. You can read it online or download a pdf for free at Issuu. For more info, check out sites like Commute by Bike, Bike Commuters, Paul Dorn's Bike Commuting Tips, the People for Bikes blog, and the LAB's 'Tips for Commuters' page. I could keep going, but there are way too many great blogs and sites about commuting to list here. Check out the Bicycle Design links page for more.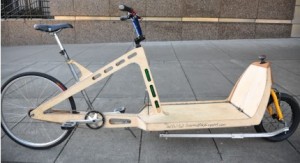 Those of you who have been reading this blog for a while may remember the profile of designer Michael Downes. You also may remember that he wrote a couple of interesting guest posts here at Bicycle Design. Michael left his job at Giant and moved to Portland to teach design a few years, but he still works on bike projects whenever he gets the chance. Lately, he and his neighbor, wooden boat builder Jeff Sayler, have been collaboriting on an entry for the Oregon Manifest Design Challenge. Together, they call themselves Art & Industry and for the past few months they have been working on a prototype cargo bike made entirely out of ¼ inch Birch plywood. Michael explained to Jonathon Maus of Bike Portland that the pair chose to design wooden cargo bike because it "would be a challenge aesthetically." You can read more about the bike, and see additional pictures, at the Bike Portland post. Also, be sure to check out Michael and Jeff's blog, which they started to chronicle their progress.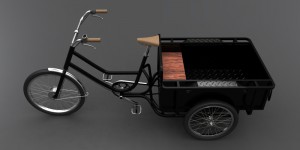 The Sanitov C-type cargo trike is the "outcome of a fruitful marriage between Chinese and Danish bicycle cultures." Unlike the similar cargo trikes that I often see on trips to China, this one includes an integrated GPS-chip, so it can be tracked in case of theft. Read more about the Sanitov trike at Design Spotter, Bike Hugger, and Inhabitat. Sanitov has a blog too, so check that out as well.
Now it's time for me to get out of here for the weekend. The ominous dark clouds are building up outside, so it looks like I might have a wet ride home. Oh well, that's the first rule of commuting…be prepared. Just hope the rain doesn't discourage anyone who tried bike commuting for the first time today.