While I was traveling last month, my 'to post' folder really started to back up. It will take a while to get to it all, but I want to quickly mention a few of the projects and links that I missed today.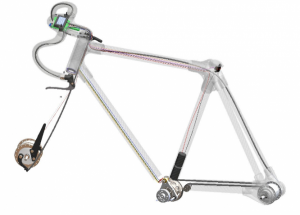 The Alpha bike is "the first fully internal drive system that includes a transmission that allows the rider to switch between freewheel and fixie using just a switch on the handlebars." It was designed and built by a team of mechanical engineering students at the University of Pennsylvania over the course of a year. Geoff Johnson, one of the designers, explains that the bike features an internal cable routing system, which holds an electronics system inside the handlebars.  An LCD mounted in the handlebars, which were 3D printed and laid up in carbon fiber, feeds out data to the rider.
The team completely designed and manufactured the bicycle in house using CNC machining and 3d printing. They already won the top prize in their major and are moving on the school wide engineering competition. You can read more about the project, and specifically the SWIFT drivetrain system, on their website and in this thorough post at Bike Rumor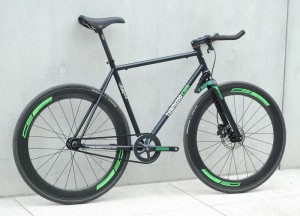 You may remember the SR Suntour Swing Shock from a post last year. Based on that fork, the guys at SR Suntour, along with Pure Bros Cycles, Tiramizoo, and RS Custom Wheels, recently built the JIT project bike. The idea behind the project was to "combine the elegance of a classic fixed gear bike with technologies like a state of the art
suspension fork, normally not found on a typical messenger bike." You can see more pictures of the JIT bike on SR Suntour's Flickr page.
Nona Varnado already has a line of stylish ladies cycling apparel. Her latest project, which just launched this month, is a new blog called The Bird Wheel. The idea was to create "a collaborative women's cycling site, fashioned to be something of a magazine."  It looks good so far…definitely added to my bookmarks.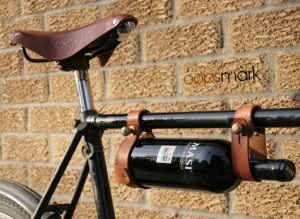 Speaking of fashion and accessories, I'll mention this handmade leather wine holder by Oopsmark. The site points out that "hidden metal clamps hold the bottle securely", so it must be way more secure than it looks. Thanks to Lynzie for the tip!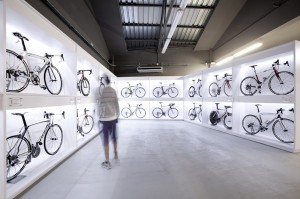 Finally, I want to mention a new concept bicycle shop in Barcelona designed by Marcel Batlle. The shop features amenities like a "library, coffee bar, and showers", but there is more to it than that. Watch the slideshow of images from the shop here, and you will see how nicely the space is merchandised. The clean, uncluttered aesthetic definitely has a high end feel. It looks more like a designer furniture store or a fashion boutique than a bike shop, but that is perfect for customers shopping for Rapha, Pasculi, Cervelo, Assos and similar high-end brands.