I am feeling a bit jetlagged after the long flight from China, but I want to pass along a few interesting links before I will be off again later this week. I'll be traveling light (without a computer) this time, so don't expect any updates on the blog next week. After a little time off, I am sure that I will have a backlog of post ideas, so look for new content here sometime after Easter.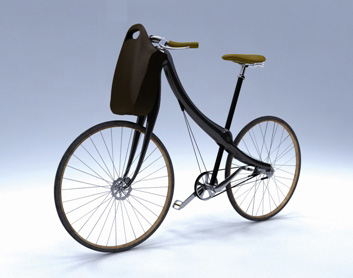 Globike, is a city bike by Torino, Italy based design firm ZAAFDesign.  According to the designers, Globike is "inspired by ergonomic principles enjoying comfort with style. Particular attention has been placed on the analysis of energy needed to produce movement. The form has been studied in order to obtain the optimal positioning of the saddle's height and depth." You can read more about the bike, which features a carbon frame with a titanium seat tube, on ZAAFDesign's website.
Make: Live, the streaming show and tell by MAKE magazine will be all about bikes this week. The topics sound pretty interesting. You can find out more at this preview post, and plan to tune in tonight, Wednesday, April 13th at 9pm ET/6pm PT.
This construction toy concept by Walter Scheublin allows children to "build their own bikes, karts and other constructions. The set consists of tubes and connector pieces that can be assembled to a frame and an axle system that provides for working mechanisms." Looks like fun…and not just for kids.
Freshome recently posted a nice looking wooden wall rack for displaying a diamond-framed bike. Each 718 Bedford Ave Bike Rack is custom made from birch ply and veneer to fit the front triangle of your particular bike. Thanks to Kim at Full Circle for the tip.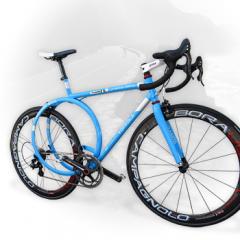 Finally, I want to mention this "roundtail" road bike created by Canadian internet entrepreneur Lou Tortola. According to the designer, this new frame that debuted at the San Diego Custom Bicycle Show last week, "dramatically increases comfort, while retaining the lateral stiffness and pedaling efficiency of traditional diamond frame bicycles." What do you think about this idea? A couple of people have mentioned that they have seen something similar before, but I didn't see it in Sharp's book or any of the other historical sources I could think to check. If you know of a link to something similar, I would love to see it.
Update: You can read more about the bike and see better pictures on the website at Roundtail.us.