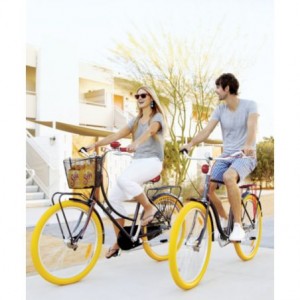 CB2, the younger, hipper sister store of Crate and Barrel, is the latest housewares and furniture retailer to jump into the bicycle business. Their first two bikes are 'omafiets' style and were created in collaboration with Republic bikes (the same company that Urban Outfitters teamed up with for their bike offerings last year). I kind of like the way these new CB2 bikes look with the custom bright yellow (at least when they are new) Kenda balloon tires and red accents on a traditional glossy grey frame. The Abuela (women's model) features a skirt guard and front and rear racks, while the men's Abuelo model has only a rear rack. Both bikes include bells, fenders, kickstands, and 3-speed Nexus drivetrains with chainguards.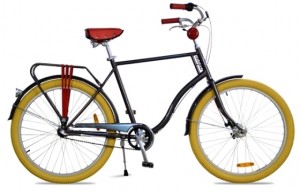 I am curious to hear what some of you think of fashion and home décor retailers dabbling in the bike business like this. Personally, I am happy to see new channels of distribution for bikes. With their physical stores and online presence, CB2 is probably reaching many people who would never think to walk into a bike shop. If some of those people decide to buy bikes while they are browsing for new patio furniture… that is a good thing. I don't really see this as direct competition for local bike shops, and perhaps some of those shops will benefit when it comes time to service these bikes, or when these new bicyclists decide that it is time for an upgrade. But enough from me…tell me what you think about bikes from places like CB2 and Urban Outfitters.
Speaking of bikes and décor, I want to point out Beg Bicycles, which I found via a recent Design Sponge post. In addition to nice traditional bikes, they make baskets and some really nice leather accessories. They have a blog too, so check it out and follow along.