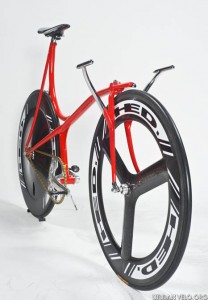 The 2011 North American Handmade Bicycle Show wrapped up in Austin on Sunday with the announcement of the award winners. There were many beautiful bikes chosen, but my personal favorite bike didn't make the cut for an award. Shin-Ichi Konno's Cherubim concept track bike (pictured here from UrbanVelo) may not have been the most practical bike at the show, but it was definitely the one that consistently got my attention as I looked through the various photos. Maybe I just like that retro pursuit bike look with the aggressive rider position and the handlebars welded to the fork (as you might guess from my first post). You can read more about Konno's concept track bike here and here.
There was certainly no shortage of good NAHBS coverage on the web this year. I still haven't seen it all, but I want to pass along links to some of the photo galleries and sites that I have been checking out the last couple days. The NAHBS 2011 Flickr pool is a great place to start, with photos from many different show attendees. Photographer Chris Gomez has a great collection of photos from the show posted on his website. Also, Cog Magazine posted some really nice shots as part of their NAHBS coverage. Be sure to check out Prolly is Not Probably as well to see a great collection of nice detail shots from bikes at the show.
As expected, Bike Rumor has done a great job of covering the show this year. Loving the Bike, Urban Velo,  Commute by Bike, Hipster Nascar, and TwoToneATL (just to name a few) have also been busy getting posts out to show us what they saw over the weekend.  Bike Radar had a few NAHBS posts as did the folks at Slowtwitch. Finally, I will mention a video by Bamboo Cyclist that provided a nice quick overview of the bikes this year.
Update: I forgot to mention Bike Portland's excellent coverage of the show. Feel free to point out any other sites I may have omitted in the comments.
While browsing through coverage, I noticed a few 'alternative viewpoint' posts about the show this year. Go Means Go asked a few questions about exactly which bikes should be considered handmade. "Can a frame be designed in the US, and handmade in Asia by a contractor?" for instance. Warwick at Thylacine Cycles was more directly critical of the show in his post, but he brought up some of the same points. Personally, I am happy to see more and more framebuilders serving different niches in the market, but I wanted to mention these two posts because I thought they might lead to an interesting discussion. So what do you think? Do either of these guys have a point? There is no doubt that big bike companies have been influenced by the renewed interest in custom framebuilding lately, and the lines between bikes from the big players and small companies are going to continue to blur. I think the comparison to the beer industry at Go Means Go is interesting, but I am curious to hear thoughts from all of you on that subject. Share your thoughts in the comments.