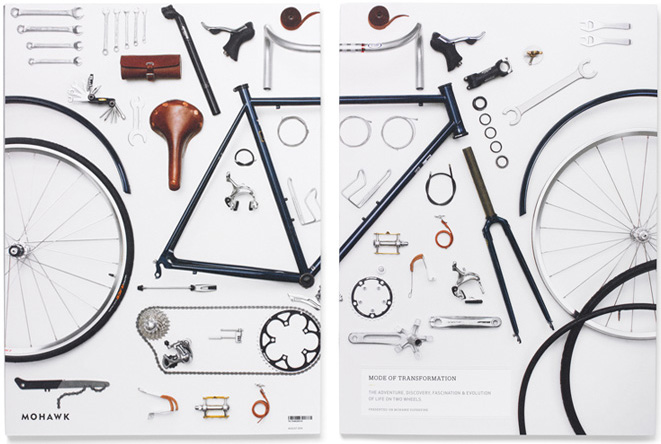 It is no secret that I love books about bicycles. The latest one that I have added to my collection (thanks to Kim at Williams and House) is not commercially available though. Mode of Transformation, from Mohawk Paper, is a beautifully designed promotional sample book that was created to showcase the company's highest grade of paper. The book was designed by VSA Partners to "showcase the evolution of the bicycle" and it features all kinds of different bikes, old and new, from Schwinn, Vanilla, Renova, Nada Bikes, and many others. You can read more about the book and see a few photos and page layouts at For Print Only.
If you are a graphic designer or someone who regularly works with printed material, you can get a copy of Mode of Transformation from your Mohawk rep. For the rest of you, check out this link to order a copy for the cost of shipping.
The book is filled with detail shots of custom bikes, so it reminds me to point out that NAHBS starts this Friday. As much as I would love to be in Austin for the show, I will instead be covering it from afar just like last year. Bike Rumor has already been building up to NAHBS by featuring several great interviews of the framebuilders, so I will be definitely watching their coverage once the show opens on the 25th. Darryl at Loving the Bike mentioned that he would be attending the show this year, so that is another good site to watch later in the week.
If you don't make it to NAHBS this weekend (or even if you do), consider attending the Heartland Velo Show, which will take place in Madison, Wisconsin August 27th and 28th. I think it is great to hear about another regional custom bicycle show in addition to the ones in San Diego, Portland, Philadelphia, and other places. Hopefully, that is a trend that will continue all around the country.