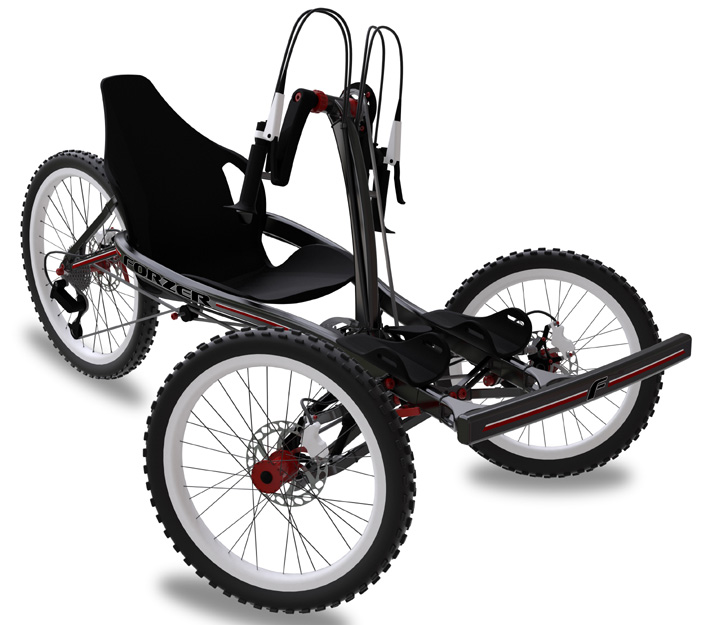 As an avid mountain biker, Marius Hjelmervik wanted to work on a bike related design for his final student project at the School of Architecture in Arhus, Denmark (where he studied Industrial Design). "Modern bicycles really look good, and they work better than ever," he said. "The way design and engineering work together in a perfect symbiosis really appeals to the designer in me." He didn't want to create just another bike though. After working a bit with handicap aids during his education, Marius became frustrated with the fact that many of the products, though well engineered, "look like something out of a hospital from the 60's". With his final project, he set out to create an off-road hand cycle that "looks like a modern bike, with great quality and rider experience, but doesn't cost a year worth of income."
Throughout his entire project, Marius worked closely with handbike builders from all over the world including Mike Augspurger at One-Off Handcycles (USA), and Per Bisgaard from Wolturnus A/S (Denmark). He also received valuable input on his concept from elite handcycling athletes including Jake O'Connor and Seth Arseneau from the US, and Ebbe Blichfelt from Denmark.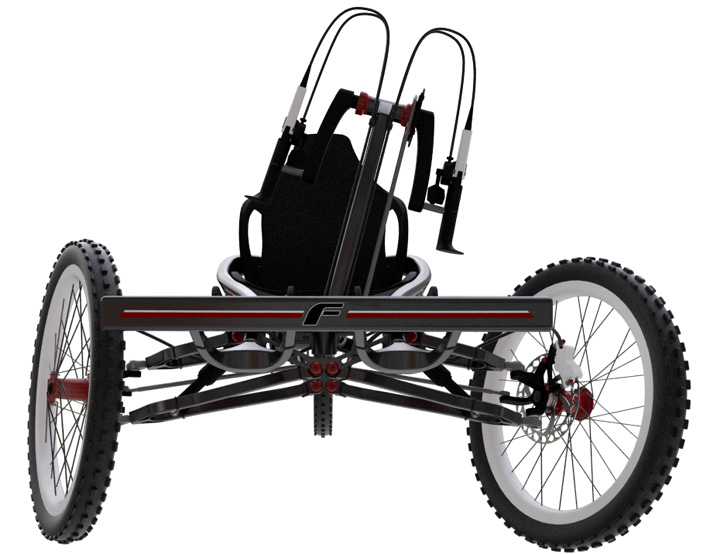 Marius named his design 'Forzer', which comes from Force, but also the Danish word "forcer" for overcoming obstacles. The Forzer is made from aluminum, and has a theoretically calculated weight of 13.3kg (29.3 lbs). It is based on tadpole construction (two front wheels and one rear wheel), and the front wheels have independent suspension with 120mm of travel. The rear wheel uses a simple single pivot design with 150mm of travel for rider comfort. Marius points outs that "the steering principle is based on Ackermann steering Geometry, and there is both kingpin inclination and caster angle designed into the frontend."
Marius hopes next to build a working prototype and possibly put his design in production. For a run of 1000 or more units, and with parts made in China, he believes the retail price tag could be around $2000 (depending on the components used). In his final design, Marius chose to use as many standard bicycle parts as possible, keeping the price low and allowing the rider "the opportunity to modify, "pimp" and maintain his/her bike."
See more renderings of the Forzer below. Nice work, Marius!
Update 12/7/2015
Since this was originally posted in 2011, many people have asked Marius' about production plans for the Forzer. For the past few years, he has been searching for a partner to help him make the project a reality, and he has finally found the right person- Daniel Karl Sonnabend, a former mountain bike racer who is paralyzed from the chest down after a 4×4 accident. Marius and Dan have set up a Facebook page where you can see updates on the project, and they are working to complete a refined prototype that Dan will race in the Australia's Cape to Cape race in October of 2016.
They also a crowdfunding page for the project, so check it out, and help them reach their goal if you can.