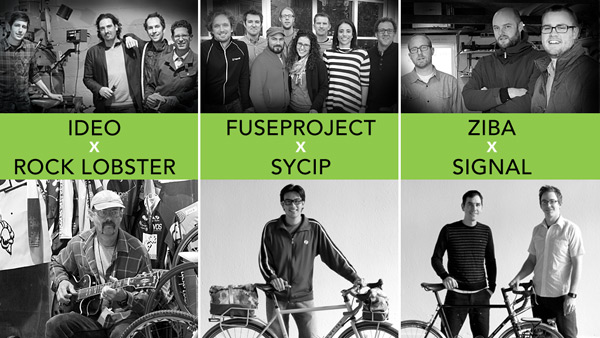 I mentioned the winners of the first Oregon Manifest "Constructor's Design Challenge" last year. For any of you who you missed your chance to submit an entry in 2010, registration is now open for the 2011 Constructor's Design Challenge. This year's event, which is sponsored by Levi's, will take place in Portland on September 23rd and 24th.
As an industrial designer, I am pretty excited about something that is new to the competition this year- Creative Collaborations. Three well known I.D. firms, IDEO, fuseproject and Ziba Design, will each be paired with accomplished custom bike builders, Rock Lobster, Sycip, and Signal, to "push the boundaries of what a modern utility bike can be." The design firms will be working from the same brief as the other challengers, and their progress will be chronicled monthly on the Core77 website.
Shannon Holt, Oregon Manifest board member had this to say about the new Creative Collaborations component:
"We're looking for the ultimate modern utility bike: a bike designed as an integrated Tool For Living that is yet to be found on the retail floor. We know that designers working with makers can result in true functional innovation for the everyday rider, and we can't wait to see what comes of these unique collaborations."
In addition to the 3 design firm/framebuilder teams and up to 35 customer framebuilders, there will be 5 student teams invited to participate including those from Art Institute of Portland's Industrial Design Program, California College of the Arts, Pacific Northwest College of Art's Applied Craft and Design MFA program, and University of Oregon's Industrial Design program. The student teams will work from the same design criteria as the Constructor's Challenge and the Creative Collaborations.
All teams will have to prove their concepts in the Oregon Manifest Field Test, which will take place in Portland on Saturday, September 24th.
"This rigorous road trial will assess the real function of every bike in the challenge, in real world environments including hills, highways and off-road sections. It will include several on-road checkpoints where judges will evaluate specific features of each bike. The Field Test requires riders to keep a brisk pace that will stress their bikes to the limit, and demands a well-crafted, expertly assembled entry in order to complete the route in good time. Final evaluation and point tabulation will occur after all bikes have completed the Field Test."
Following the field test, all entries will be judged by an esteemed panel including, Tinker Hatfield, vice president of Innovation Design and special projects at Nike; Rob Forbes, founder of Design Within Reach and PUBLIC Bikes; Joe Breeze, mountain bike pioneer and founder of Breezer Bicycles; and Bill Strickland, editor of Bicycling magazine. Ron Sutphin, president of United Bicycle Institute, will moderate the panel.
An Awards Gala, which will take place the evening of September 24th, at Chris King Precision Components. At the Gala, which will be open to the public, awards will be presented to the top three entrants, along with two honorable mentions and a student winner. All entries will be displayed for inspection by gala attendees.