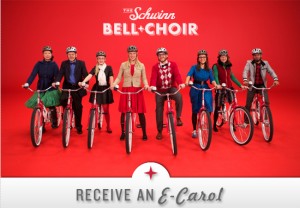 I hope that you all are having a Merry Christmas (or a happy Hanukkah, Kwanza, Winter Solstice, Festivus, or anything else you choose to celebrate this time of year). I have been spending time with family and haven't found the time to post in the last week or so. I do have a few links that I want to pass along though on this Christmas Day though…consider it my gift to you.
The Schwinn Bell Choir plays holiday carols on bike bells. You can send an e-carol through the site, and when you do, Schwinn will donate bikes and helmets to kids in need. They have a behind the scenes video where you can find out more about the idea.
I have noticed more and more electronic charging system concepts for bikes on design sites lately, like the I-Green concept by designer Fandi Meng. It seems like a simple device, but the Team Columbia Giant Trinity in the photos seems like a strange bike choice for an on-bike phone charger. Do you really need to make calls during a time trial?
Encycle is a tire friction generator by HyunHee Yoon. It's worth a mention today, because it reminds me of the chrome bicycle headlamp that I received for Christmas about 35 years ago. At the time, I like that old tire friction powered lamp because I had to ride fast to keep the light bright. If I slowed down at all, the light would dim immediately. It definitely served as motivation to keep pedaling hard. Maybe I need one of those today as a training aid.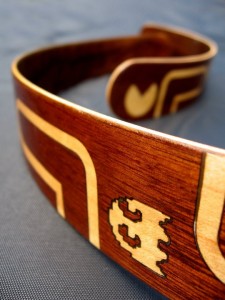 Finally, I want to mention Nisnas cycles "a small workshop dedicated to custom commuters" in the city of Haifa in northern Israel. According to the blog, Max and Yossi make custom lugged steel frames, bags, and fenders, and they take the time to teach kids in the neighborhood how to do the same. It sounds like a great community project. Read more and check out some of the great wooden fenders at the Nisnas Cycles blog.