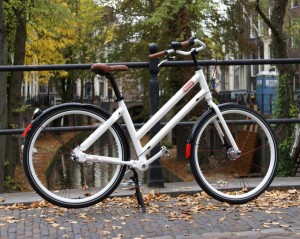 I mentioned the African Bicycle Design Competition a couple of months ago. I am honored to be one of the jury members for the competition, and I am happy to be able to say that we have completed voting to choose the five winners of Phase 1 (Open Wiki-Bike). The winners of this first phase will now have the opportunity to work with a professional designer and a student design team to develop their ideas. I will post more about the five winners soon (with pictures), so stay tuned for more about the competition.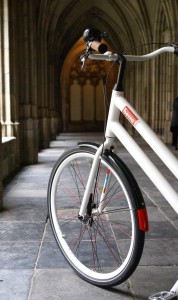 One of the organizers of the African Bicycle Design Competition let me know about this new shaft drive city bike from Beixo. The 3 speed Nexus equipped bike is called Share, and in this case that name has a double meaning. The aluminum step-through frame was designed for use by a man or a woman (one reason for the name). The other meaning refers to the initial purchase. When you buy a Share, a percentage of the purchase price will go toward bicycle projects in Africa. That is a great idea that I really hope will catch on. The Share bikes will be available in Europe starting in February 2011. It doesn't look like the bikes will be sold in North America, but those of us in the U.S. can still donate to organizations which provide bikes to people in Africa who need them. Bike Juju has a post titled Bicycle Projects in Africa and Latin America with a list of organizations that are doing just that.
Update: I didn't know when I originally posted, but the design credit for the Beixo Share goes to Jurgen Kuivenhoven from Superframe.