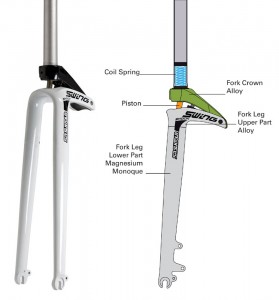 Suspension for the road is not exactly a new idea. Many of you probably remember the Paris-Roubaix SL fork that Rock Shox introduced in the early 90's. Prior to the Roubaix fork, a hundred or so years prior to be specific, there were many other ideas floating around for suspension systems to take the edge off of rough roads. It is an old idea, but I think the Swing Shock that SR Suntour launched at Eurobike  brings something new to the table. The Alloy and Magnesium Swing Shock was designed to replace the rigid forks found on many urban and commuter bikes. It offers 30mm of travel at a reasonable weight of 1300g (2.87 lbs), and it has simple lines that visually work on an urban fixie or singlespeed.
Those urban cyclists, who gravitate toward a clean aesthetic, are exactly the types of riders that the design team set out to win over with this fork. According to a spokesman at the company: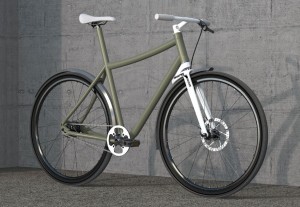 "They had to create a suspension fork, which would convince the rigid fork fans with a sleek and slim design coupled with suspension comfort. The 30 mm of travel absorbs the main hits from cobblestones, sidewalk curbs, little stairs and potholes. The rigid construction allows better acceleration whilst pedaling and the fork weight of around 1300 g is 400g under the lightest standard suspension fork. The low built-in-height allows rigid fork replacement without changing the original bike geometry."
You can find more information about the Swing Shock on SR Suntour's website. Also, be sure to check out their video on Youtube. I do think it provides a nice option for suspension on a clean urban bike…and I especially like the integrated fender idea. I guess time will tell if the fixie kids agree with me.