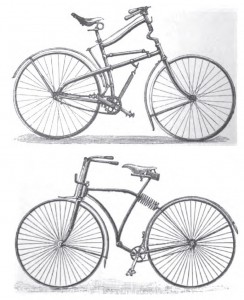 I have mentioned Archibald Sharp's 1896 book Bicycles and Tricycles: An Elementary Treatise on Their Design and Construction on this blog several times before (here is one post that comes to mind). I personally have a pretty big collection of books about bicycles, but Sharp's classic stands out as my single favorite. When it was written, the bicycle was revolutionizing personal transportation, and this book was the definitive technical work covering bicycle design down to the smallest detail. I keep a copy of it on my bedside table, and I love to browse though it occasionally to see the variety of innovative ideas from the late 19th century.
Even though the latest reprint edition is no longer available, I couldn't bear to remove Bicycles and Tricycles from the Bicycle Design Amazon store. The good news though is that you don't have to pay big money for a rare used copy. The book is now available for free at the American Libraries Internet Archive, where you can read it online or download a version in one of several different file formats.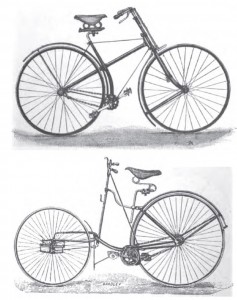 I recommend reading the entire book, but if you flip directly to the frame section starting at page 275, you will see a collection of interesting designs (only a few of which are pictured here). 19th century roads were pretty rough, and pneumatic tires were fairly new (patented by John Dunlop in 1888), so many inventors had ideas for different types of full suspension bicycles. Those are some of my favorite designs in the book, but the section on gearing is pretty fascinating as well. Okay…it's too hard to pick a favorite section, so like I said before, read the whole book. If you are interested in bicycle design and history it is definitely worth your time.
Thanks to Richard Masoner at Cyclelicious for sending me the link to this online version of the book. Seeing it scanned and archived for posterity made my day, so I am happy to be able to share this classic book with all of you.