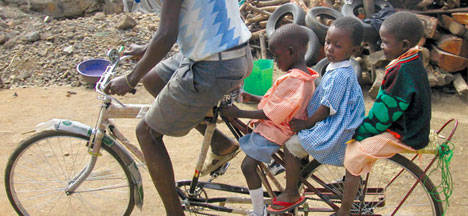 I mentioned the African Bicycle Design Contest in a previous post, but I want to remind you that the deadline for submitting an entry is just over one week away (September 30th). If you have any ideas about how a bicycle can be designed or modified to make a difference in Africa, I encourage you to register on the Wiki-bike site and share your thoughts, sketches, photos, etc. While you are there, be sure to check out the blog section of the site to see photos of bikes around the world and a few of the entries submitted so far. More information about the contest is available in the press release below. I am looking forward to seeing some of your entries when we start the judging process in October.
How do you redesign an icon?
On Tuesday, September 7th 2010, better known as Duurzame Dinsdag (Sustainable Tuesday) in the Netherlands, the African Bicycle Design Contest (ABDC) has won the 2nd prize in the national battle. The ABDC is an initiative to develop a Bicycle that fulfills African needs, in co-creation with students, professionals and everyone else interested. Ideas can be submitted till September 30th 2010 at wiki-bike.com.
The Netherlands is famous for its bicycle culture. There are more bicycles than inhabitants and a bicycle is used by all people, regardless of status, sex, culture and religion. As in the Netherlands, bicycles are very popular in Africa. But where in the Netherlands the bicycle is mostly used for leisure and commuting, in Africa it is a tool for economical empowerment and independence. Unlike the Netherlands, the available bicycle designs in Africa are of poor quality, which hampers economic development.
Research shows there's a need for sustainable bicycle designs produced with environmental friendly and local available materials, to reduce or prevent an increase of CO2 emission. The worldwide knowledge and innovative ideas could have a real impact on the livelihood of African families.
Wiki-bike is inviting everyone to submit their ideas for the perfect African bicycle and join the African Bicycle Design Contest 2010-2011. A professional jury, with James Thomas, Peter van der Veer, Luud Schimmelpennink, Jan Carel Diehl, Frank van Rijn, Nick van Kimmenade and the African Bicycle Network, will judge all contributions and select five design ideas in October 2010. The five winning contributions will be awarded with a design team that will develop the design ideas into prototypes. Maybe one of these prototypes will be the bicycle that makes a difference in Africa! The design team delivering the best prototype will win a 10-day trip to Kenya to assist a Kenyan team in producing this bicycle (conditions apply). Visit wiki-bike.com for more information.
The African Bicycle Design Contest is an initiative of Cycling out of Poverty in cooperation with IDEAL&CO, Slimmer foundation and several universities and colleges.