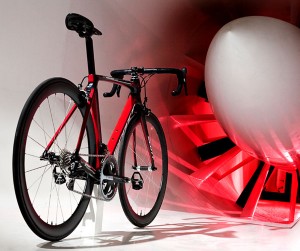 After a disappointing Tour start this year, Mark Cavendish seems to be back on track with his second stage win in two days. The attention is back on Cav, but the bike that he is riding, the recently unveiled SCOTT F01, deserves a lot of attention as well. The new aerodynamic road racing bike, which SCOTT developed in close partnership with Team HTC-Columbia and Drag2Zero services, was presented at a press conference in Rotterdam right before the Prologue.
The goal of the F01 project was to "achieve aerodynamic performance with a light and stiff profile." Specifically, SCOTT set out to:
•Reduce overall drag of rider and bike at 45 KPH by 20 watts, between 0-20 degree crosswind with a 20 to 30 % reduction of frame drag compared to standard tube.
•Reach Addict stiffness with only 5% increase in weight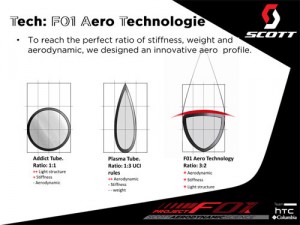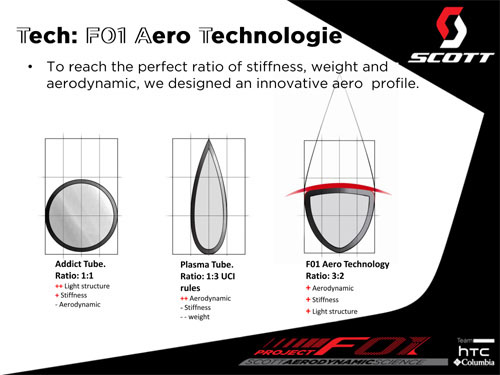 The design was developed and tested in the Mercedes-Benz Grand Prix Wind Tunnel. As you can see in the slide image from SCOTT's presentation, it uses a 3:2 ratio tube profile that looks like an airfoil shape with the tail removed (like a very short Kamm tail profile). If you look at the picture above, the red colored sections on the backs of certain tubes indicate where the trailing airfoil edges have been removed. According to the company, the result of this project is a frame that is stiff and 20% lighter than most of the other aero frames on the market.
The bike is not available to the public yet, but it is a great example of an equipment sponsor really putting a new design through the paces during the three weeks of the Tour. That is something that I always like to see, and it really is what makes the Tour de France the race to watch for bike geeks.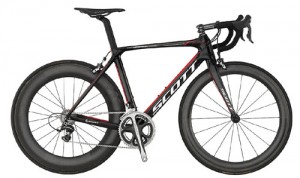 Back to Cavendish though…it is no surprise that he wanted flashy custom graphics on his Project F01 bike. Check out this Bike Radar profile of his bike to see how the graphic designers at SCOTT interpreted his request for a "ninja theme." Creating a tasteful design with splattered blood as a primary element is no easy task, but I think they did a pretty nice job with it.