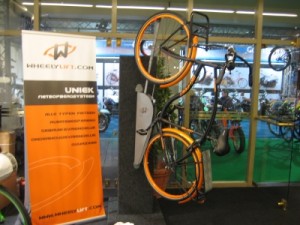 Jos Sluijsmans runs the Dutch website Fietsdiensten.nl and is one of the organizers of the African Bicycle Design Contest, which I mentioned in a past post. He recently created a YouTube video titled 'Creatief fietsparkeren', which features some great examples of creative bicycle racks and parking designs from the Netherlands and around the world.
I had seen many of the designs featured, but a few of them were new to me. The wall mounted Wheelylift system was one that caught my attention in the video. I have no problem storing my lightweight bikes on the wall, but this seems like a good solution for heavy utility oriented designs. As Jos points out, the Wheelylift racks "can lift bikes up to 35 kg. So they are also very handy for twowheel cargobikes or tandems."
Other parking solutions featured in the video include:
All in all, the video covers some unique approaches to bike parking and storage. In addition to these, and the ones I have mentioned in the past, can you think of other interesting designs that are worth a mention?