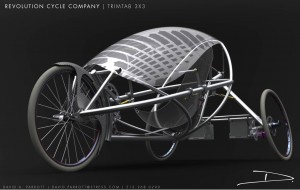 David Parrott is developing an interesting semi-enclosed recumbent trike for his Master's thesis in Industrial Design at the University of Cincinnati DAAP. I mentioned his Trimtab 3×3 concept briefly in a previous post, but it is worth a second mention to point out that David is currently building a functional prototype of the design at Losantiville Kunstwerkhaus, a collaborative design/fabrication studio that he started in Cincinnati with a low-impact mobility theme. Take a look at the Trimtab 3×3 Flickr set to see additional renderings of the vehicle and photos of the prototype that is currently under construction. You can also follow the Losantiville Kunstwerkhaus blog for updates on the project as the prototype progresses.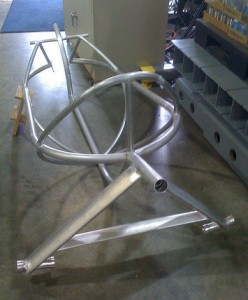 David explained that he designed the Trimtab as a transportation design project created through the lens of "Slow Design". He points out that, "it's a 3WD, electric-assisted, lean steered delta trike with seasonal fabric skins & seating (breathable, ripstop nylon for summer; therm-a-rest style inflatable skins for winter), an acrylic aircraft-style canopy, and flatbed storage."
He went on to mention that his design  "challenges some of the basic dogma of the bike design scene (Rear steer! Yikes!) as well as the "I can draw it but I can't build it", styling-driven methodology" that is increasingly common in the Industrial Design field these days. I have heard some very strong criticism of all rear steer bike or trike designs here on the blog, so I am curious to hear what you all think of David's lean steer concept. Hopefully when the prototype is complete, he will post some video of it in action to prove the concept, so to speak. I am definitely anxious to see the results…and I wish I could ride it to see for myself.