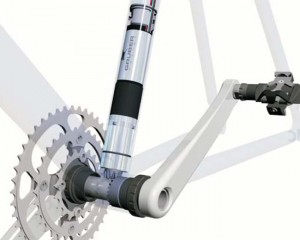 I posted about lightweight e-bike designs back in April. At the time, I jokingly remarked in a discussion group on LinkedIn that, "the way I am riding this spring, I could use a little electric boost to bridge the gap in the local Tuesday night training rides". I may have been kidding, but apparently I wasn't the only person thinking that way.
Listening to the May 20th episode of the Velocast podcast, I first heard the term "mechanical doping" used to describe a hidden electric motor in the seat tube of a racing frame. In the podcast, they mentioned that the UCI was investigating allegations that lightweight Gruber Assist motors may have been used in bikes raced at Paris Roubaix and the Tour of Flanders. Over the weekend, an article in Bike Biz discussed the matter further, quoting a former pro who claims to have "ridden a 10 kg pro bike with an electric motor housed in the frame at the crank." After the Bike Biz story broke and a video surfaced, rumors that Fabian Cancellara may have ridden the Spring Classics with a motor in his bike spread quickly on the web. Today, even Cycling News and VeloNews are addressing the issue. The latter even has a statement from Cancellara about the accusation- "It's so stupid I'm speechless, I've never had batteries on my bike."
This blog is about bikes, not racing, so I generally avoid mentioning the various scandals that seem to plague cycling as a sport, and in this case I am certainly willing to give Cancellara the benefit of the doubt. In a post over at Cozy Beehive, Ron points out a few of the reasons that he does not believe that Cancellara used a motor to cheat. I'll let others discuss whether he did or didn't, but what interests me out of all this mess is the technology that makes the accusations believable. To learn a bit more about the Gruber Assist motor, you can download a PDF document from the website. The product, which is billed as an "invisible ascent aid", promises "200 watts more motor power" and "up to 100% performance increase for 100 min. maximum." The motor is suitable for retrofit in any bike with an inner seat tube diameter of 31.6 mm. An external battery pack is required, but it is certainly conceivably that a cylindrical NiMH battery could be hidden somewhere in a carbon frame making the system completely invisible from the outside.
My first thought upon hearing these latest rumors was…what does all this mean for electric assist bikes? Certainly if the "mechanical doping" (I still love that term) stories are true, it is bad for the sport of cycling. Lets face it though, pro racing has its share of other problems at the moment, so the possibility of a new way to cheat shouldn't really come as that big a shock. Applied to other types of cycling though- commuting or even recreational riding for instance- a product like the Gruber Assist motor could be helpful for some people. Someone who wants to get out and ride for fun and fitness but is intimidated by the hills might feel more confident knowing that he or she can get a boost of speed with the simple push of a button. Likewise, a lightweight motor could appeal to a potential bike commuter, who might want to speed though one section of his or her route quickly to avoid traffic or hills. Those are just a couple of examples. The reasons that this type of technology might appeal to some beginning or "non-enthusiast" cyclists could go on and on.  So I am wondering…if pros really are now using e-bikes to cheat, will that change the perception of electric bikes as a category among hardcore cyclists? Will the most elitist roadies no longer sneer at "geeks" who speed by on electric bikes? Maybe this whole mechanical doping scandal is just what the electric bike industry needs to finally catch on in the U.S. market? OK…I am not being completely serious, but you do have to admit that this latest pro cycling scandal does cast electric bikes in a different light. Outside of the word of sports, the idea of saving energy to cover more ground at a greater speed might be not be such a bad thing for some people. It certainly beats the idea of taking EPO for the morning commute.