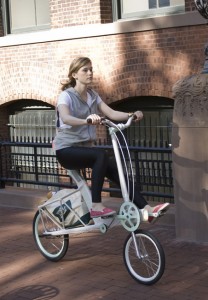 Nick Foley is an industrial design student at Pratt who has been working on a semi-recumbent bicycle design for his senior thesis. His goal with the project was to "design a safer, more accessible urban bicycle that was also more efficient and more convenient." On his website, Nick lists a few of the key features of his "Etta" design:
Integrated lighting
Integrated cargo space
Adjustable to fit a rider of any height
Comfortable, high-backed seat
Upright posture provides unparalleled visibility
Car-like riding position is efficient and familiar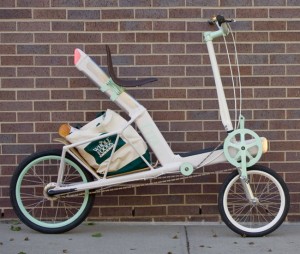 Nick hand built the fully-functional prototype that you see pictured here, which he estimates to weigh between 20 and 25lbs. For more information about the design, take a look at the Etta page of Nick's website. He is looking for production opportunities, so contact him through his site if you are interested.
Update: Nick points out that his prototype will be on display at an exhibition about the "future of urban transportation" which is set to open June 24th at the Center for Architecture in Manhattan. Read more about the show at OurCitiesOurselves.org.