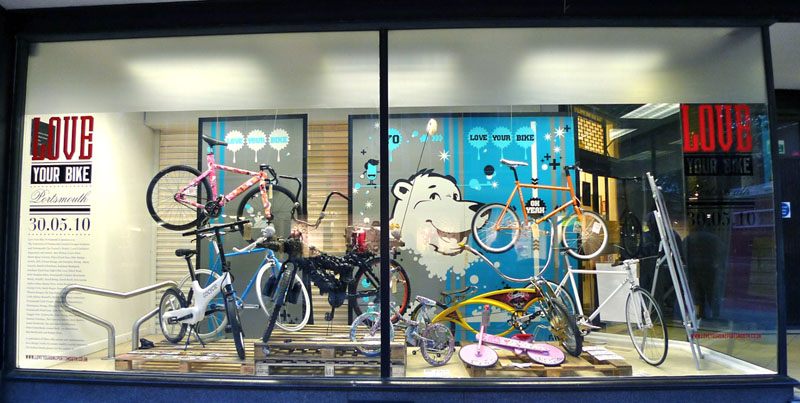 I briefly mentioned Love Your Bike Portsmouth in a post last month. The event, which will take place in Southsea, Portsmouth, UK on May 30th, will feature "workshops, bike demo's, bike polo, marketstalls, bike artwork, bike safety and a showcase bike arena."
For now, the organizers have taken over a store window display with a new custom "Cypress Hill Lowrider" by designer Ben Wilson, a custom printed fixed gear collaboration from I Love Dust and Tokyo Fixed, a GoCycle, and several more interesting bikes. See additional pictures on the website or in the Love Your Bike Portsmouth Flickr group. They also made packs of spoke cards with 20 different designs for the event. Looks like it is going to be a lot of fun…let me know if any of you attend on the 30th.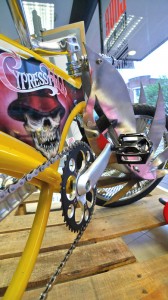 I'll pass along a few other links while I am posting.
I mentioned a Specialized Shiv tandem concept a few months ago. YankoDesign has more on that bike by designer Robert Zuchowski. Update 5/14: This bike and a couple of Specialized helmet designs have now been removed from Mr. Zuchowski's Coroflot portfolio. It appears that the real designer may be Robert Egger as I originally assumed. Can anyone confirm that?
Fast Company posted a slideshow from New York's Museum of Art & Design Bespoke: Handbuilt Bicycle exhibition, which is going on now.
Treehugger posted a "Young Swedish Firm Designs Bike Palace for Philadelphia."
I like this wooden wall mounted bike rack that I spotted on Etsy. More bike related stuff on Etsy here.
Cycle Chic Belgium is giving away a copy of the book "VELO – Bicycle Culture and Design". You have until the 21st to enter.
Not design related, but it is great to hear that the US Census shows that the number of U.S. bike commuters is up 26% from 2006 to 2008.
Finally, I will mention that Loving the Bike and Cranklisted have teamed to rank the "best cycling blog in the world". Between now and May 21st, you can nominate your favorite cycling blogs with voting on the finalists set to begin May 22nd. If you want to nominate Bicycle Design (and I hope you do), please use the Lifestyle category.