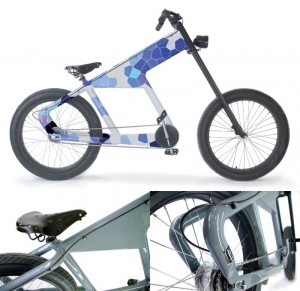 I am a bit overwhelmed with work this week, so this will be another one of those quick posts full of unrelated links. Hopefully you will all find something of interest.
Sven from Team Tentakulus sent me these pictures of the limited edition cruiser bike, Shocker Chopper, which they recently created under the "11 bikes" brand. He mentioned in his message that "the bike is not everybody's cup of tea especially not for people with weak nerves," but that it "stands out from normal cruisers by a clear structured concept." The guys behind 11 bikes plan to introduce three to four new bike designs each year. As Sven pointed out, "Shocker is the starter – more puristic appearing bikes will follow, but all with the focus on function, usability and convenience."
Kyality pointed out these Graphite and Milk bike renderings that recently appeared on Industrial Design Served. My first though upon seeing these renderings was that those carbon frame elements look mighty thin for a commuter-oriented design.
Another bike that has been hitting the design blogs lately is this hubless wheel concept by John Villarreal. The renderings look slick, but I have expressed my concerns about hubless wheels for bicycles in several past posts, most recently this one. Hubless designs for bikes come in waves, and one of those waves seems to be peaking right now. The hubless trend even caught the attention of Bike Snob NYC, who expressed his concerns in a recent post.
Dave Moulton recently did a talk in Charleston on the subject of Bicycle Evolution (one that I hated to miss). His post outlining the lecture is definitely worth checking out
Cyclelicious points out the 2010 Xtracycle Radish longtail, designed with the help of Rivendell's Grant Petersen.
Finally, I will mention this BikeBiz article about Rock Racing's plan to produce a line of bikes. Déjà vu, right? I wouldn't even bother to mention it if not for the teaser picture referenced in the article. I will admit that I am kind of interested in seeing these bikes…if they ever do really come out.