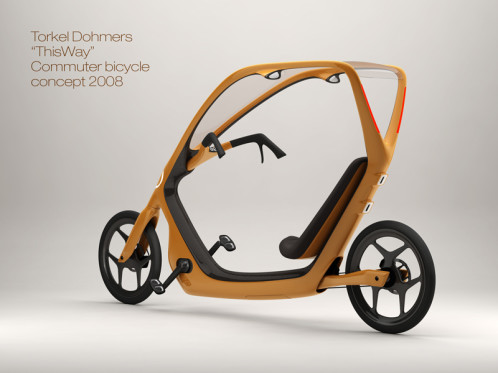 It has taken some time, but I can finally announce that Torkel Dohmers' "ThisWay" concept has been chosen as the winning entry in the Bicycle Design "commuter bike for the masses" design competition. Congratulations to Torkel, who will receive a Cannondale Bad Boy 700 for his efforts. Since I already published Torkel's description of his entry, I won't post it again, but you can read it in the finalists post if you are interested.
Some of you may be wondering why it took so long to announce the finalists and then to announce the competition winner. Well, it wasn't an easy decision. As you know, a jury of designers, and one journalist, with varied backgrounds made the selection, so you can probably imagine that we had different opinions about the various entries. Those differences led to some really great discussions as we worked to reach a decision, so I want to share a little bit of that with you.
First, let me back up a bit. In order to decide on the finalists, each juror made a list of their top ten picks in order of preference. From those lists, I assigned points to each pick (10 points for first, down to 1 point for tenth). I compiled the points for each entry that we chose, and the six finalists were decided based on those numbers. As we made those initial lists, we each wrote a short comment about each of our picks. Here are a few of those initial comments about Torkel's "ThisWay" concept.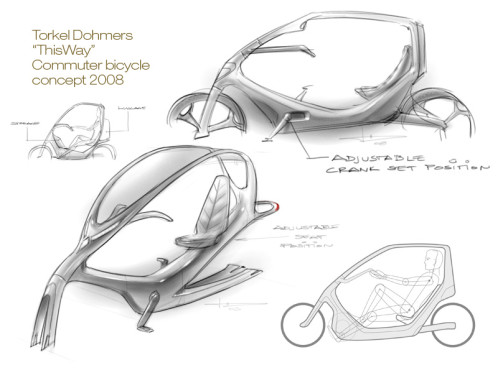 "This semi-enclosed design is different and attractive to be a clean, mould-breaking alternative to non-cyclists. The frame is light (and potentially low cost in volume) due to tall frame (high 2nd moment of area), and offers more protection from other road users, weather and can be seen. My only hesitation is the semi-recumbent riding position, which may put off previously infrequent riders."
"Fresh concept, well executed design, weather + crash protection make it appealing to non-cyclists. By far the best proposal in my opinion. I'd move the seat up a bit higher for improved safety in heavy traffic though."
"This one is my favorite concept by a long shot. I have seen attempts at a bicycle frame with a partial roof before, but they all look clumsy and top heavy. In this case though, the overall form looks integrated and visually works well. The semi-recumbent riding position is not all that different than the position of a driver in a car, so it may appeal to non-cyclists. I think the seat could be a bit higher to allow a ride similar to a Townie or one of the other popular "foot forward" upright bikes that are popular today. The presentation board could have done a better job explaining the modular cargo attachment on the rear of the frame, but overall I think this concept address the car replacement issue best of all."
"Personally I've never tried a recumbent – I'm very comfortable on a regular bike, but a recumbent makes me think I would have to learn to bike all over again, (would love to try one though!). I can imagine that they are fairly stable as your c.o.g. is lower, but since you are sitting low you are not visible in the traffic. I'm imagining a recumbent could be a bigger obstacle for a non-biker to overcome than to get on a regular bike, especially when thinking about different age groups – it's an issue with familiarity and perception. What I do like though is that it has the playful outline / x-section of a car indicating that it is a step closer to a car than a regular bike. Overall a very nice design. Like that it has a roof – but I guess it never rains sideways where he lives…"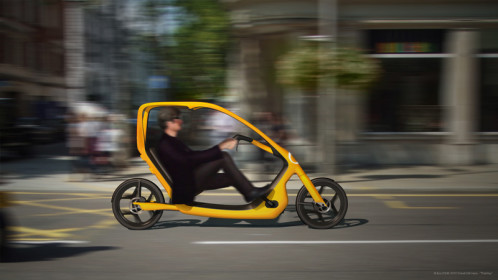 So based on the numbers, "ThisWay" easily made the list of finalists, but that was just step one. We still had to agree on a winner, and that is when the real jury discussion started. As you can see from the comments above, a few of the jurors liked the concept, but had some reservations about the recumbent riding position right off the bat. As we discussed the six finalists, a couple of jurors still had reservations about Torkel's concept:
"My main concern is that a recumbent would be a bigger obstacle for a non-biker to overcome than to get on a regular bike, especially when thinking about different age groups – it's an issue with familiarity and perception. I think a regular person would feel that they would have to learn to bike all over again – therefore they would stick to what they are familiar with, their car.
To me this would appeal to a bike-enthusiast for which there are plenty of bikes already on the market – so it is not inclusive. A non-biker is, for example, a mom with a busy schedule and several kids, an high-up executive with status issues and a really expensive car he / she loves to show off, a person with back and neck-problems, an older person afraid of falling, an obese person who considers walking their main form for exercise, etc etc.
A non-biker, who is new to recumbents, would probably not feel safe in heavy traffic as you will sit considerably lower than on a regular bike."
A few responses to the rider position concerns were:
"To recommend a higher riding position, ie 'foot forward' rather than recumbent, not a sporty position but nearer classic urban Dutchbikes, than it is now."
"A (slight) foot forward geometry is amazingly comfortable, for most people. It also feels efficient (except for maybe 'racers')."
"I don't think a feet first semi-recumbent position is necessarily bad, but the seat could move up a bit. Maybe it could fall somewhere between what is shown in the rendering and something like and Electra Townie."
Another concern about this concept was the potential cost/ commercial viability, to which one juror responded:
"I think with decent production engineering (possibly using frame making techniques from Toy, Boat, or sport equipment makers rather than bike frame makers) …. it could be made to sell under $1000 to start and under $500 if volume took off."
"From an engineering point of view the 'frame' can potentially be pretty light for its size. This is because the materials are basically in the right places to maximize stiffness, without being a fully enclosed 'eggshell' (it has a large 2nd moment of area). I could imagine this being molded in glass fiber, around hollow tubes, or even blow or roto-molded ! So cost and weight need not be 'show stoppers'.
In addition to questions about rider position, the jury pointed out other issues that could be addressed with future development; shielding from road water spray, transmission routing, the possibility of electric assist, etc. Most of those points are minor details though. Overall, out of all the entries, "ThisWay" was the concept that most of us on the jury felt was "different enough to be a 'paradigm shift' from, and an alternative to, existing bikes."
I could throw in many, many more quotes from the jury, but this post is already getting long. It is impossible to capture all the different thoughts, but I do hope that the short bits from our discussions help to give you an idea of the thought and back and forth discussion that went into the decision. I will close with one more quote from a jury member:
"I think we can all agree that convincing a non-biker to leave their car behind is a very complex and interesting problem to solve. There are so many levels to this that we probably haven't even thought of, and it would take a lot of research / ethnographies to uncover all the different issues involved and to understand how to address them."
I couldn't agree more, so let's keep the discussion going. After all, that is what this blog is all about.
Finally, before I close out this (long) post, I want to again thank the other jurors for the time and effort that they put into this competition. Thanks to:
Torgny Fjeldskaar- Director of Industrial Design & Advanced Products Division at Cannondale Bicycle Corporation
Mark Sanders- Principal of MAS Design Products Ltd and designer of the Strida and IF Bikes
Agnete Enga- Senior Industrial Designer, Smart Design/ Femme Den, NYC
Carlton Reid- Editor at BikeBiz, Quickrelease.tv, Bikeforall.net, and BiketoWorkBook.com