Intro from James- Mark Sanders is a name that many of you will probably recognize. I have mentioned him and his Strida design on the blog several times. In addition to Strida, the UK based designer/ engineer has created many other interesting folding bikes. I admire his work, so I asked Mark to submit a guest post to share his thoughts about bike design. I am happy that he took the time to do so and I think you will find his post quite interesting, so without anything further from me, here is Mark's guest post for Bicycle Design:
As a 12 year old, living in hilly Sheffield, UK, I was not in a cycling club, but I loved the personal freedom a bike gave me to explore much further (que Bob Sinclair ). My bike was like a human amplifier. By 18, girls, cars and a few years of engineering and design studies had taken over, and I didn't really ride much until the Strida project 7 years later.
I think it was an advantage to see bikes through the eyes of an occasional cyclist, as later I realised this is the untapped market …. a vast 'blue ocean' of potential cyclists, compared to the overcrowded 'red ocean' of enthusiasts where the bicycle industry tends to focus.
(This data is based on cycling capable population, and has similar proportions in many western countries)
I try and keep this perspective even after 20 years of designing and riding bikes. I approach bicycle design like other product design and engineering. It is one thing to make a product attractive, but the engineering needs to be worked out too – it's all design. The best part of my job is to dream; what would really be better? Then I enjoy the inventive challenge to make that dream real. I have little interest in doing 'me-too's' in reaction to marketing research – as Henry Ford reflected: "If I'd asked customers what they wanted, they would have said 'faster horses'."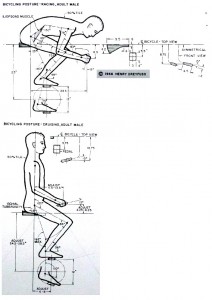 The Strida , originally a college project, was never intended for outright speed and racing. [Its design and development has been shown on Dezeen and Google eg this Video and pictures]. Strida was deliberately designed for urban utility use and with a riding position like upright Dutch bikes, and Copenhagen bikes it was designed to appeal to 'Blue Ocean' users, who also want a bike to be like any other contemporary product; fresh, easy to use and in this case ultra-portable (never carry – just wheel along).
See the classic Henry Dreyfuss picture which illustrates the contrast wonderfully…… A bent neck and back work well to reduce drag for sport, but are not so good for people who just need a utility to get from A to B, easily, in comfort with good vision and without sweating !!
There are many 'Blue Ocean' Strida users in the Far East – this is a gathering of Strida riders at the Taipei show this year….
In South Korea, the 'Strida cafe' forum has 25,000 members – and probably due to a similar mix of men and women, has resulted in many friendships and several marriages. I think the popularity is due to the non-sporting, fun nature of both the bike and its riders. This is quite a contrast to the more serious, sport and testosterone fuelled western bike industry.
After several other, generally folding and structural products, (golf carts, medical transport chairs etc.) I got to work on the X-Bike for Sir Clive Sinclair [Uk's Steve Jobs of the '80's] …. with 2 tubes this was even simpler than the 3 tube strida !
This was a wonderful opportunity to do some fascinating, fundamental testing and bicycle research: solid urethane tyres, small wheels with and without suspension, hub centre steering, ultra short wheel bases, twisting front wheel drive transmissions, etc. Pictures HERE show some of the designs and testing – I learned that many of the so called 'bicycling facts' were in fact only 'de-facto' when used in context of cycle sport … and not necessarily appropriate for everyday utility cycling. However, the planned low cost production version of the X-bike relied on fusible cored tools and injection moulded, long fibre reinforced nylon. But risks were high and the required investment disappeared. The same concept may now work with today's carbon frame techniques, but not for such a low target price. Instead, Sir Clive went on to develop the A-Bike with Alex Kalogroulis (who also worked on the X-bike).
Nowadays bikes are my primary daily transport – there is always something to test. I still believe folding bikes are a keystone in future urban transport plans; they make public transport 'door to door' to compete head on with private cars for commuting and short journeys; but why isn't everybody using folding bikes ? Even in London, with congestion charges and tube bombings bike use has increased 3 fold, but 90%+ of bikes are full-sized, non-folding bikes. These bikes are banned on public transport at peak times and are way too big to store in the office or in a car.
This lead me to dream of a new full-sized folding bike. Fast and easy folding into a small, wheel-able package, with all the mass between wheels and handle as HERE , and HERE This aims to appeal across the range of non-cyclists to cycling enthusiasts, and using standard gears, wheels etc. to leverage the fruits of 100years of bicycle component R&D. Now, after a few false starts, Pacific-Cycles have added their own considerable skills to this dream, and now own and are producing the IF (integrated folding) range of bikes. These are based around a 3 dimensional, 4 bar link which auto-tensions the frame and guides the wheels together in one folding action. Best seen in Video
Working at the Pacific factory is like being in heaven; as well as George and Michael Lin's expert team and their fantastic bike building facilities (CAD, CNC, precision welding, heat treatment etc etc.), it is a great place to meet bike designers eg Ryan Carroll, Marcus Riese, Steve Domahidy, Jay MacNeil, Chris Canfield, to name just a few.
IF Mode: was the 1st to be conceived with monoforks and a moncoque frame. It still remains close to the dream. Production versions have all enclosed chain drive with gears.
This is George Lin, Pacific's legendary Chairman [called the father of the Taiwanese bike industry] on an early IF Mode.
IF Cross:Adding IF technology to a conventional frame, using 700c wheels, all the benefits of Fast fold, wheel-able when folded and small folded size are retained with a wide choice of standard gears, wheels and other components. Video of 1st prototype
IF Reach: adds IF technology to Pacific's race winning, full suspension Reach.
The future of folding bikes – I see mechanisms getting much more like the automatic umbrellas we all now take for granted, but hidden in beautiful, clean and seamless monocoque frames. Having just turned 2 classic manual Can and Jar openers into fully automatic products, I dream of doing something similar with folding bikes.